JOHN P. LEE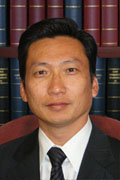 John P. Lee is a partner at KSPL, and his practice covers representation of financial and corporate institutions in all facets of commercial litigation and secured transactions, including UCC, deed of trust, and debt collection practices.  With extensive experience in civil litigation, Mr. Lee has handled various creditors' remedies, including, but not limited to, debt collection litigation, receiverships, and post-judgment enforcements.
Practice Focus
During 20 years of legal practice in Los Angeles, Mr. Lee has represented numerous creditors and banking institutions in California and currently serves as legal counsel to major banks, corporations and business entities.  Mr. Lee also provides legal services in the sale, purchase, and reorganization of business, formation of partnerships, joint venture, and corporations.  In addition, deals or disputes involving real estate development and claims relating to business arrangements of every nature are among the broad range of legal practice.
Admission
Mr. Lee is admitted to practice in California, including U.S. Court of Appeals for the Ninth Circuit and U.S. Central District Court.
Education
Univ. of California Hastings College of Law, J.D., 1989
Univ. of Hawaii, B.A. 1985
Languages
Korean